Here are some more blistering sounds that will leave you scrambling for the rewind button. Ok, so finding a rewind button nowadays is like finding rocking horse doo doo, but a quick mouse click at the start of the embedded music player and you can be pleasured two or three time over, for free!
Up first, Chi towns finest....
DJ Soul x Okayplayer - Time Travelin (Best Of Common)
A few years ago, Okayplayer asked DJ Soul to do a Common mix which fans would receive (as a bonus cd) if they purchased Finding Forever on their site. With the buzz starting to build for Common's upcoming album The Dreamer, The Believer, now is the perfect time to
release this to the masses. Enjoy nearly an hour and half of classic Common!
1. Pete Rock & Marley Marl - Intro
2. Car Horn (prod by The 45 King)
3. Funk Shit (prod by Marley Marl)
4. Resurrection (Original Mix, Extra P Mix & Large Pro Mix)
5. The Bizness feat. De La Soul
6. State To State feat. No I.D.
7. One Too Many
8. The 6th Sense (prod by DJ Premier)
9. Interlude #1
10. Respiration feat. Mos Def & Talib Kweli
11. Don Randi - The Fox
12. Sweet Blindness - Ain't No Use
13. 1-9-9-9 feat. Sadat X (prod by Hi Tek)
14. Uni-Verse at War feat. The Roots
15. Play Dis (Original Mix) feat. Saukrates
16. Interlude #2
17. I Used to Love Her
18. Bitch In You
19. Take It Ez
20. Soul by the Pound
21. Would You Like to Ride feat. Kanye West
22. Def Poetry Jam Freestyle
23. Food feat. Kanye West
24. The Light Remix feat. Erykah Badu
25. Interlude #3
26. Come Close Remix feat. Q-Tip, Pharrell & Eryah Badu (prod by J Dilla)
27. Star *69 feat. Prince & Bilal
DJ Soul x Okayplayer - Time Travelin (Best Of Common)
by
DJ SOUL NYC
El Da Sensei - New Release
For El Da Sensei's latest collaborative effort, he gets some help from his Boom Skwad partner in rhyme Tame-One and New Jeru's first lady, Rah Digga for the !llmind Remix of "Everyday In The Street". As featured on 'The Nu World Remix EP', which drops next Tuesday 15th Nov, this song signifies the first time that El, Tame and DJ Kaos have been featured on a retail release together in over a decade. This is also the first time that these Jersey veterans have all been featured together on the same track. Be sure to cop EL's remix EP courtesy of Coalmine Records.
"Everyday In The Street" (feat. Rah Digga & Tame One) [!llmind Remix]
by
Diamond Media 360
Contemplations of Aborting Damien EP
This is something quite different and has been sent to us by Dead Hand. It reminds me sonically of early Non Phixion productions with a hint of Company Flow, dark and grungy, not quite indie but pushing the genre boundary that is known as hip hop. But it still sounds distinctly unique.
It's probably best described in the words of Dead Hand themselves:
From Jam Faction members Carl Kavorkian and Rummage comes their collaborative project, "Contemplations of Aborting Damien", under the moniker of Dead Hand. This is an evil concept EP, whose main purpose is to sonically paint a dark vivid picture within the mind of listeners. It's contents are not meant to be taken literally, for this was just something both artists wanted to get out of their system. Started in 2006 and still incomplete but finalized in the fall of 2011, comes 9 Heavy-hitting tracks, with lyrics that could raise the spirits if played backwards. Now available for free at
http://carlkavorkian.bandcamp.com/album/contemplations-of-aborting-damien
.
If you like this, then you can also check out their other material
here
.
Damu The Fudgemunk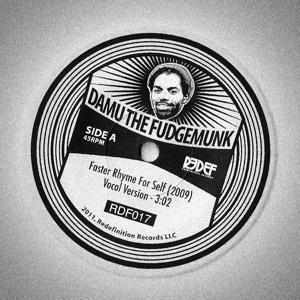 Many of you will have heard Damu on production, but this new release has him on production, vocals and cuts. It's a funky little number with a beat reminiscent of those from the late 80's, a bass line that DITC could have crafted and vocals that sit perfectly between chugging along and furiously spitting. This is a must for anyone who seeks a modern day version of the sound of yesteryear.
Take a listen on Soundcloud, or use the direct download link for a free copy.
Faster Rhyme For Self - Damu The Fudgemunk
by
Redefinition Records
Direct download:
http://redefinitionrecords.com/wp-content/uploads/2011/12/Faster-Rhyme-For-Self-Damu-The-Fudgemunk-320K.mp3
That's all for now, hope you enjoyed it :)
Mike Check.